2019年3月25日,合肥常青学校举办了首届《走进国际校园 畅享世界文化》国际文化艺术节。春意盎然,春风十里。三月是新生命绽放的季节,也是校园文化播种的季节。

Spring is coming and the warm wind is breezing. March is the season of new life and the season of creating campus culture. The Bilingual Department of Hefei Ivy Experimental School hold the first International Art Festival of 'Enjoying World Culture and Enjoying International Campus!'

如果说世界上有什么东西是最清澈无瑕的,那只能是孩子们充满兴趣和好奇的眼眸了。绿城育华幼儿园的师生们的到来为校园增添了一抹不一样的春色——鲜艳跳跃的黄。

If there is anything in the world that is the most clear and flawless,it can only be the eyes of the children who are full of interst and curiosity.The arrival of teachers and students in Lvcheng Yuhua Kindergarten has added a different view to the campus——bright yellow.

操场上展出了1000余幅学生作品,包含了百幅美术画作,百幅体育技能特写,百种环保科技类作品,百幅特色英语作品,百幅语文特色作品,百幅数学特色报告,百国世界物产特景等等。

In this exhibition, there are more than 1000 students' works exhibited, including 100 fine arts, 100 photos of sports skill, 100 kinds of environmental protection science and technology works, 100 pieces of characteristic English works, 100 pieces of Chinese characteristic works, 100 pieces of mathematical characteristic reports, 100 countries' world special products, etc.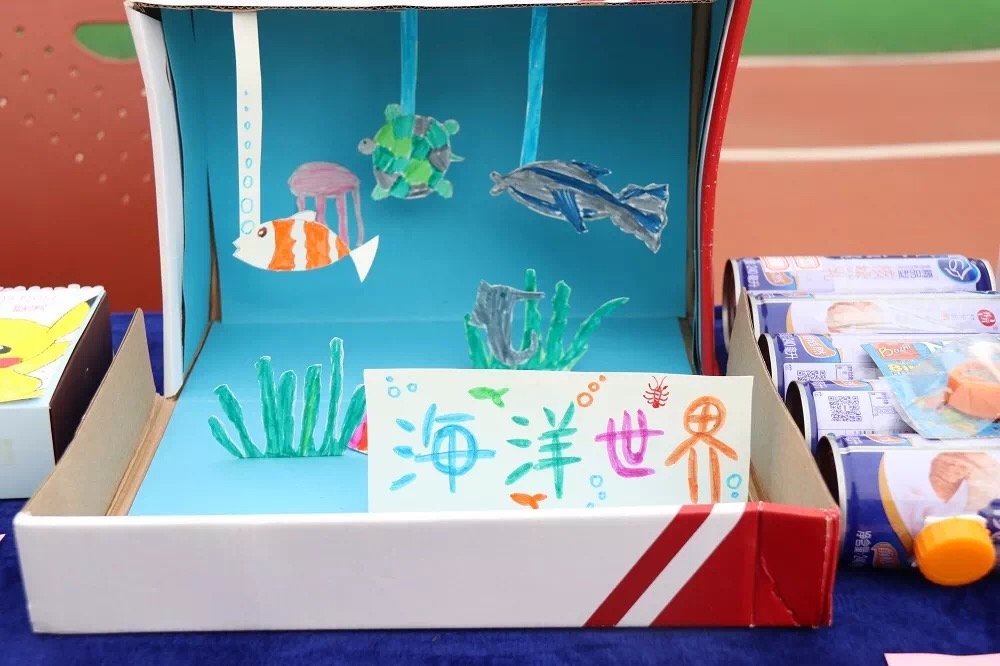 在奏响中国国歌之后,艺术节开幕式拉开序幕。本次与会的校领导和主要嘉宾包括了合肥常青学校校长杨晓华女士,GIA中国区总经理李皓辰先生,合肥论坛教育频道总监黄严先生,卓米创客总裁陈雄剑先生,格林米乐总裁许婧女士,绿城育华幼儿园园长李长艳女士,合肥常青学校校董贝文彪先生,校董吕红女士,校董李继和先生,执行校董文雪先生,家长代表宋惠娟女士。

After playing the national anthem between China and the United States, the opening ceremony of the festival begins.The main guests at the meeting included Ms. Yang Xiaohua, Principal of the Bilingual Department of Hefei Ivy Experimental Academy,Mr. Li Haochen, General Manager of GIA China,Mr. Huang Yan,Director of Hefei Forum Education Channel,Mr. Chen Xiongjian, President of Zhuo Mi Creator,Ms. Xu Jing, President of GrimmI International English,Ms. Li Changyan, Director of Lvcheng Yuhua Kindergarten, Mr.Bei Wenbiao ,Ms.Lv Hong,Mr.Li Jihe,members of School Board of Hefei IVY Experimental Academy,Mr.Wen Xue,Eexecutive Manager of Hefei IVY Experimental Academy,and Ms. Song Huijuan, Parent Representative.

贝文彪先生,李长艳女士,李皓辰先生及校长杨晓华女士在艺术节上分别致辞。贝先生和杨校长在全面展示常青对孩子的学术及综合素养的培养成果同时,更表示:未来,国际化教育是潮流与趋势。李皓辰先生为艺术节和合肥常青学校送上了美好的祝愿。家长代表宋惠娟女士也和大家分享了孩子入学后的种种变化,她认为民办国际化教育是稳定且可靠的。绿城育华幼儿园园长李长艳女士则从幼教的角度剖析了国际化教育对孩子成长的影响。

Mr. BeiWenbiao, Ms. Li Changyan, Mr. Li Haochen and the principal, Ms. Yang Xiaohua, delivered separate speeches at the festival.Mr. Bei and President Yang, while fully demonstrating the achievements of the Ivy Bilingual department in the development of children's academic and comprehensive literacy, also said: In the future, international education is the trend.Mr. Li Haochen gave his wishes to the festival and the school.The parent representative, Ms. Song Huijuan, also shared the changes of her child in the school, and she believed that private international education was stable and reliable.Ms. Li Changyan, director of Lvcheng Yuhua Kindergarten, analyzed the impact of international education on children's growth from the perspective of early childhood.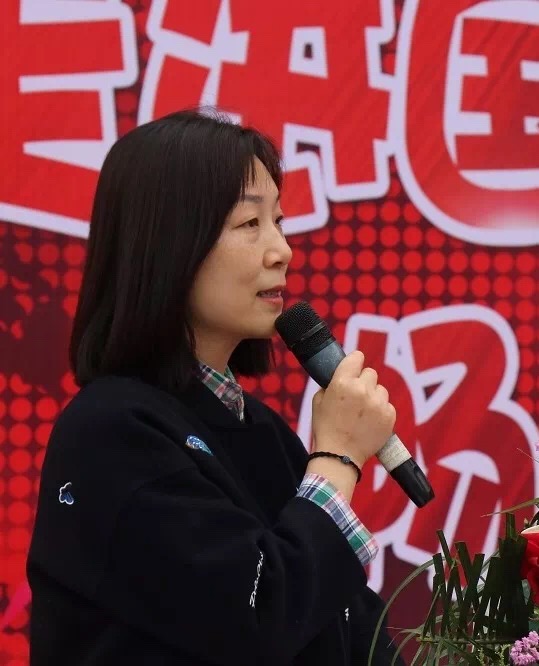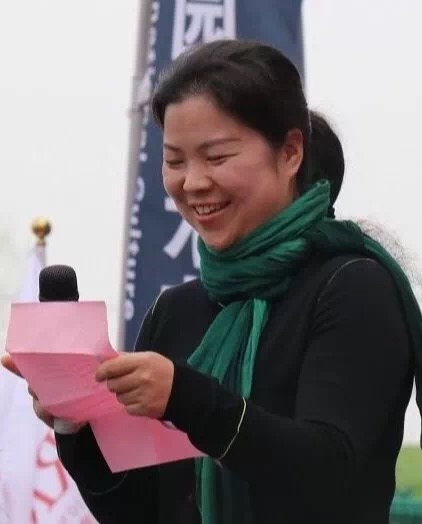 "看!飞机!"三架无人机带着美好的祝愿从天而降,吸引了全场小朋友和大朋友的目光。也标示着艺术节活动正式开始。

"Look!A plane!"Three drones fly through the sky with best wishes, attracting the attention of all students.The art festival is officially started.Mr.Da Winxi is here again with his magical technology treasures.He brings "The rockets of water" to us.Do you want to know how to make it fly highly and far away?Go and ask the children at the scene!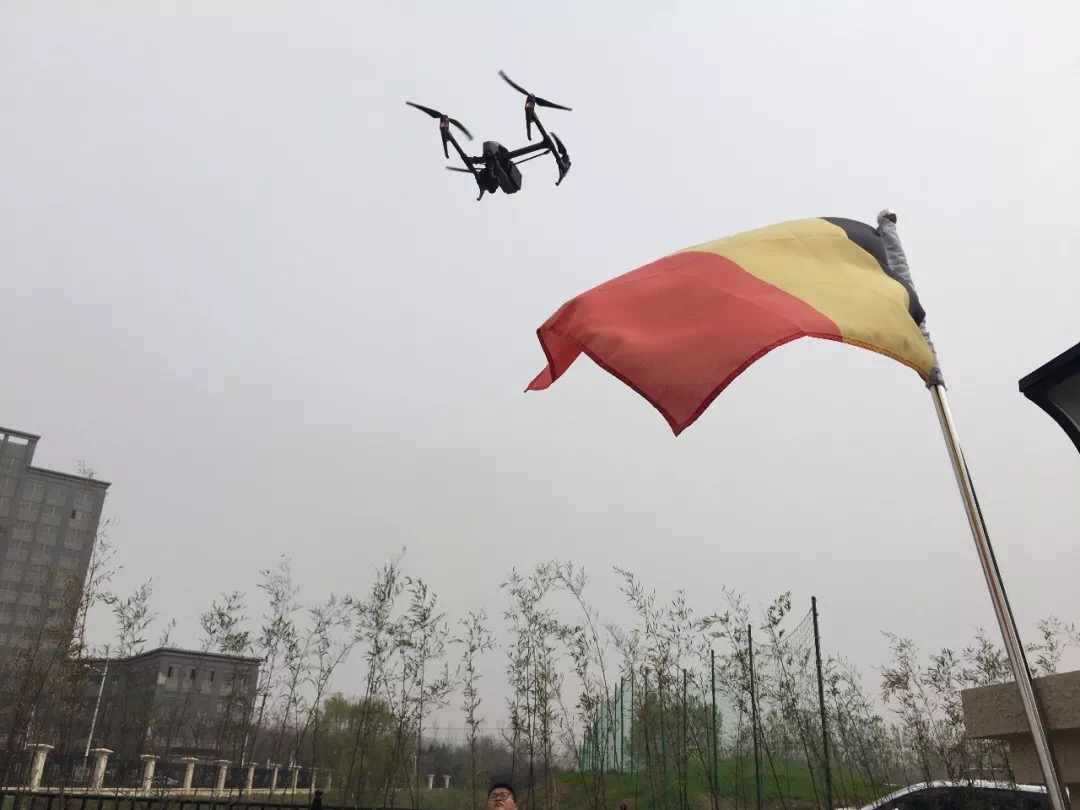 "达文西老师"带着自己的神奇科学宝贝又来啦!这次带给大家的是"水火箭",想知道用水做的火箭怎么发射的又高又远吗?快去请教一下现场的小朋友们吧!
学生运用自己的创新思维,大胆想象,利用家里的废弃材料,本着环保节能的意义,融合自己的科学想法,孩子们脑洞大开,与科技共舞,动手做出了一个个充满科技元素的小作品。

All these works are made by our students using their own innovative thinking, bold imagination and family's waste materials, in line with the significance of environmental protection and energy saving, the integration of their own scientific ideas, to create hands-on small works full of scientific and technological elements. Come on, let's enjoy and feel the quirks of their brain holes and dancing with the tech.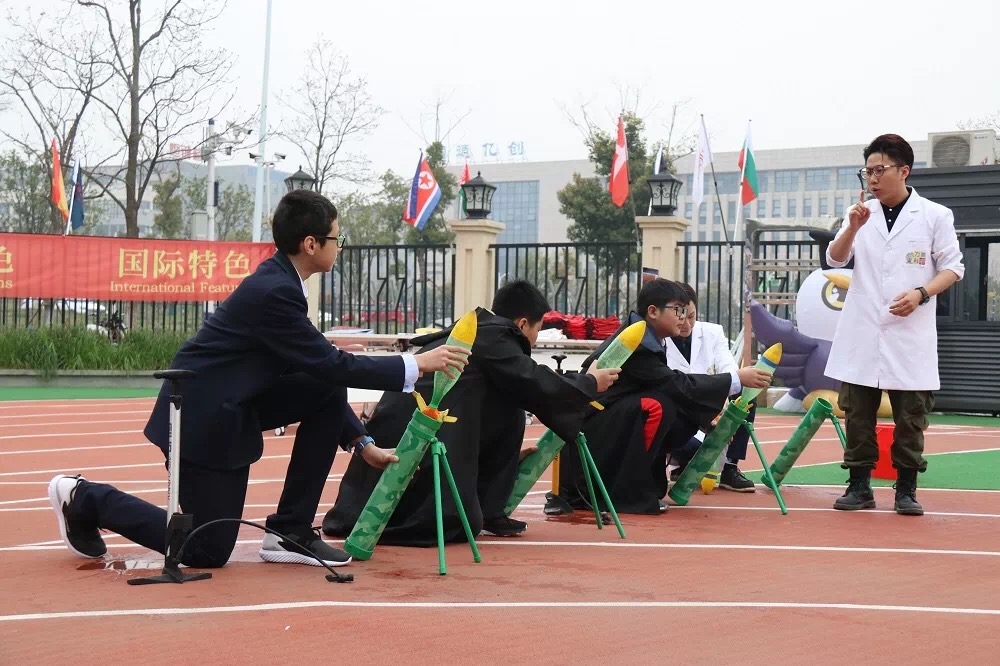 不同年龄段的孩子,用不同的艺术表现手法和自己独特的视野、绚丽的画笔描绘了他们眼中美景和心灵感受,展示了他们天马行空的艺术思维和审美感知。客观世界和主管感知合二为一,幻化出美丽的图画,天真、大胆、夸张、浪漫、率真,给我们带来无限的美的感受和启迪。

Although children are from different age groups with different artistic expresshion techniques,they use their own unique vision,gorgeous brushes to depict the beauty and spiritual feelings in their eyes,showing their artistic thinking and aesthetic perception.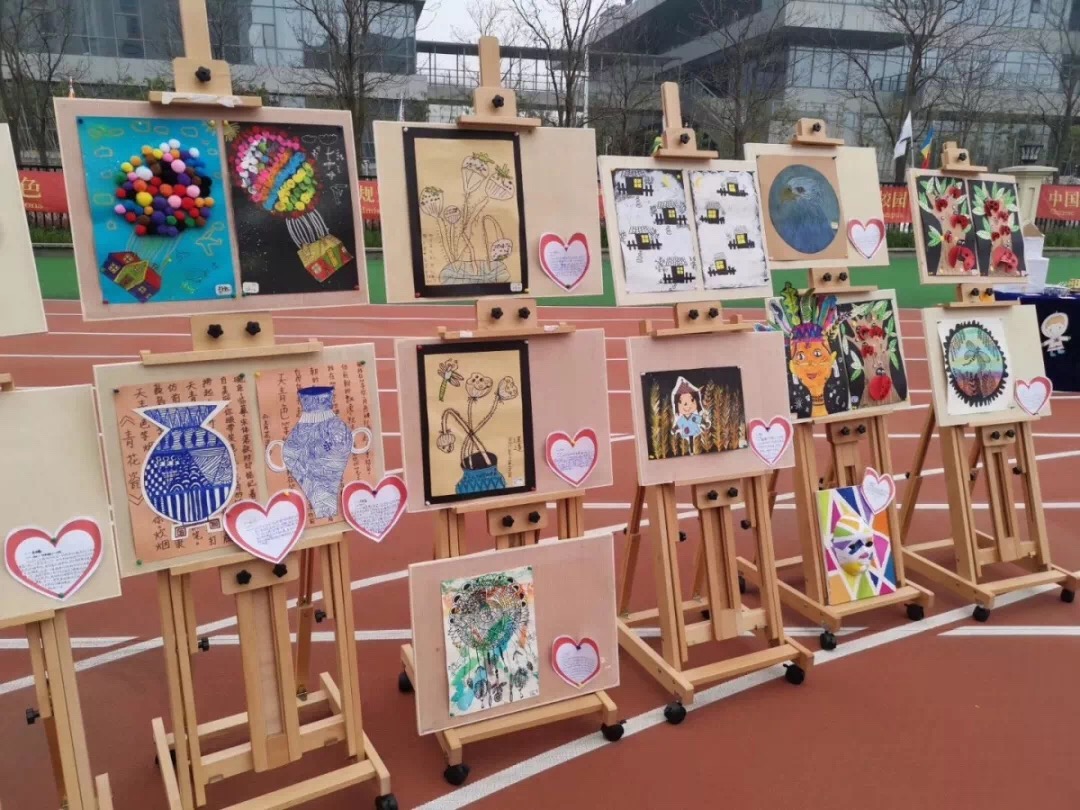 逛完了"外场","内场"有更多精彩的地方等着小朋友们去探索。我们的图书馆还是一如既往的火爆"打卡胜地"。孩子们对阅读的渴望,其实比老师和家长所感受到的,要更加强烈。
After strolling through the outfield,infield has more wonderful places waiting for the children to explore.Our library is still as popular as ever.Children's desire to read is actually more intense than what teachers and parents feel.People thought they were going to see the books in the classroom,but our students and teachers do something differently.The first is to greet everyone who is the aroma of barbecue!It turned out that each class had chosen the themeculture of a country,and each classroom was furnished with this theme,producing food from various countries to treat guests.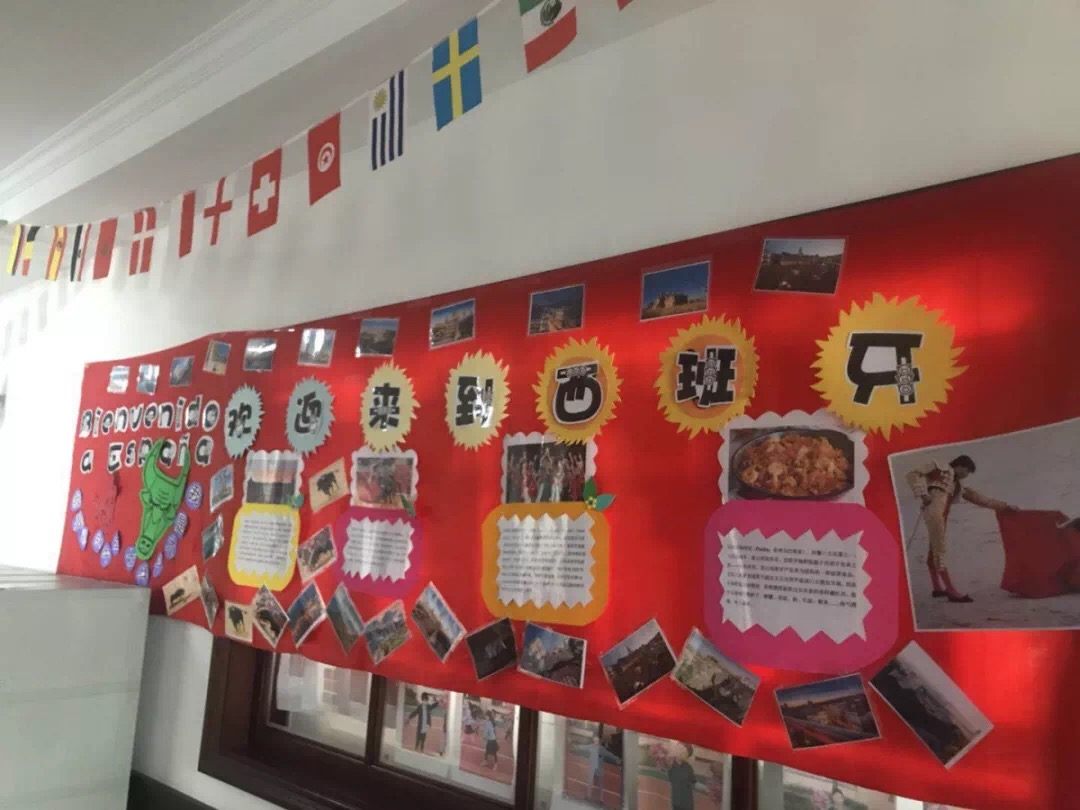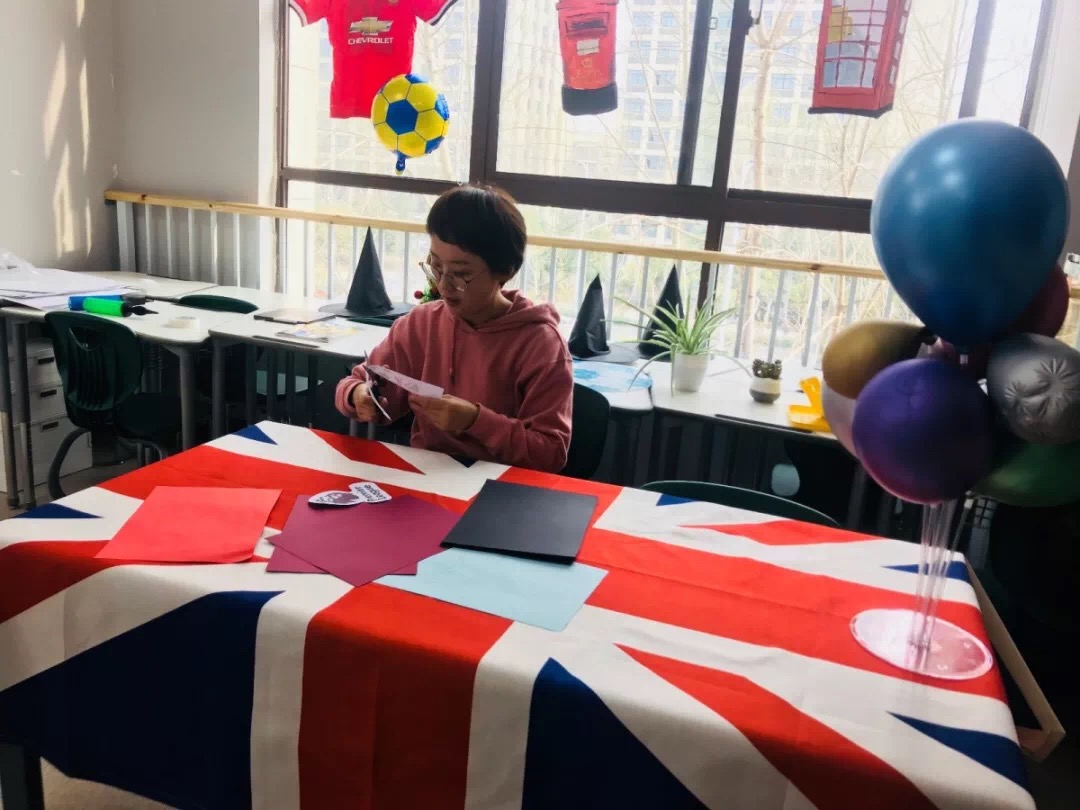 走到教室区域,本以为会看到书本课桌,可是老师孩子们摆明了不按套路出牌。最先迎接大家的竟然是阵阵烤肉的香气!原来是每一个班级自选了一个国家的主题文化,并以这个主题布置了每一间教室,制作了各个国家的美食来"招待客人"。 每一位学生便是这个大家庭的一位位小主人,用一声声"Welcome"欢迎大家的到来,用令人垂涎的各国美食去结交新的朋友,用包容和谦虚的心去懂得分享。

Every student is a little master of this extended family.They welcome everyone in English,treat guests with delicious food from different countries,share their hearts with tolerance.And their strong back are parents.Parents will always support their children and the classmates.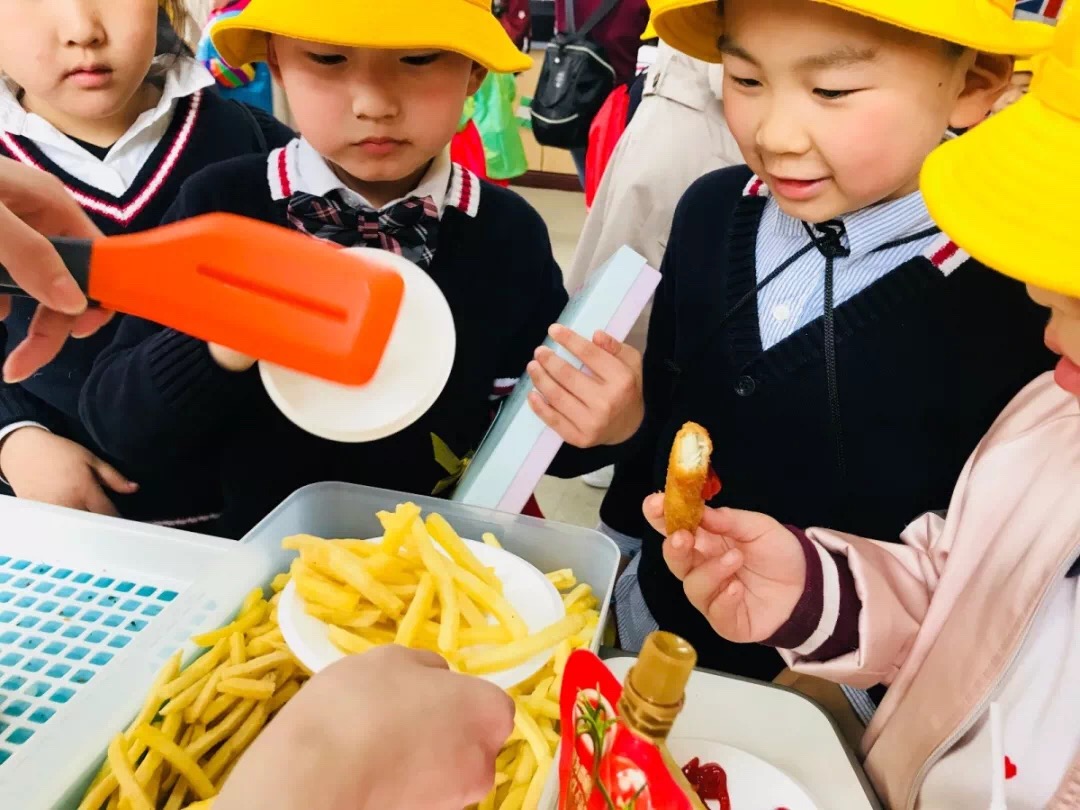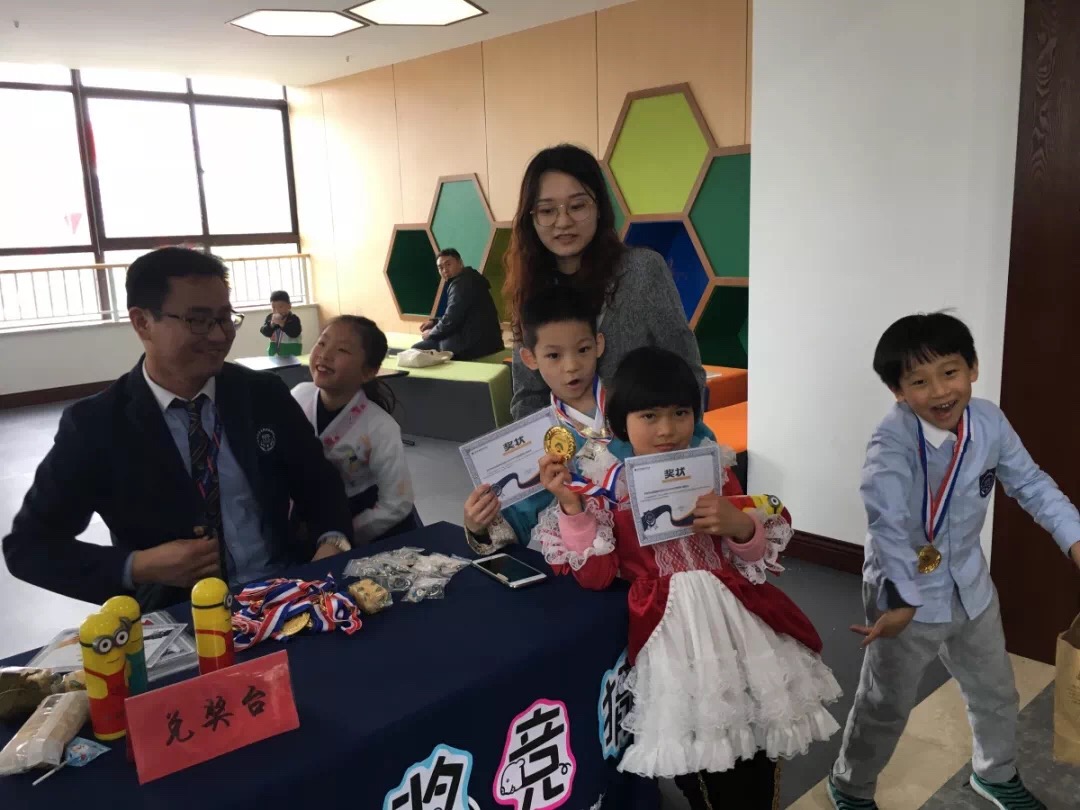 而每一位家长,永远都是这个家庭中最伟大的"幕后推手",他们默默的支持着自己的孩子,支持着每一个班级的成长。

本次活动充分体现了双语部对学生综合素养,国际视野的培养与引领,彰显学校"新型、高端、国际化"办学定位。为全体师生嘉宾提供展示、学习、活动、交流的平台,形成了良好的家校共育,协同共赢的教育合力。同时也为学生开拓视野,建立国际化价值观打下良好基础,这是实现常青双语部学生毕业十项全能的真实写照。

All students participate in the creation of a variety of works during this festival. In the exhibition of more than 1000 works, it includes scientific and technological creation, academic sharing, handmade crafts, art paintings, world property, sports development and other diversified student growth display. These works condense the wisdom and creativity of parents, teachers and students together. This event fully reflects the bilingual department of Students Comprehensive Literacy, international vision of the training and leadership, highlighting the school feature of 'new, high-end, international.' It also provides a platform for all teachers and students to display, learn, do activities and communicate. This also reflects the formation of a good home-school co-education, co-winning educational efforts. At the same time,it is a platform for students to broaden their horizons, and to lay a good foundation for cultivating international value, which is to achieve the 10 All-around skill.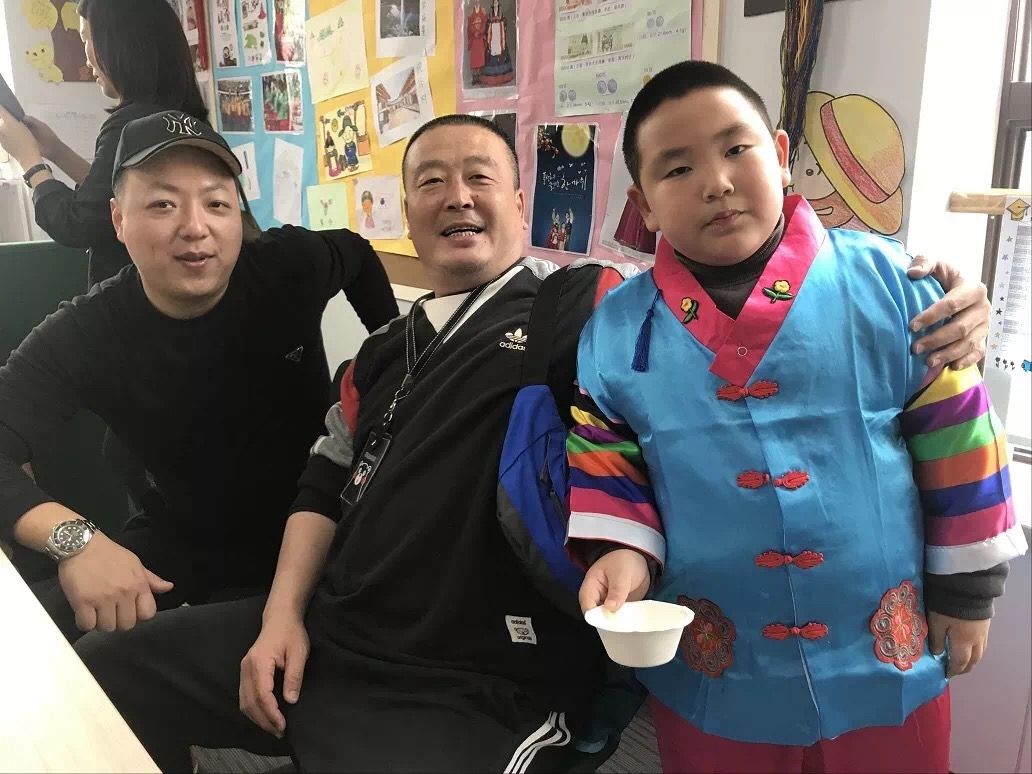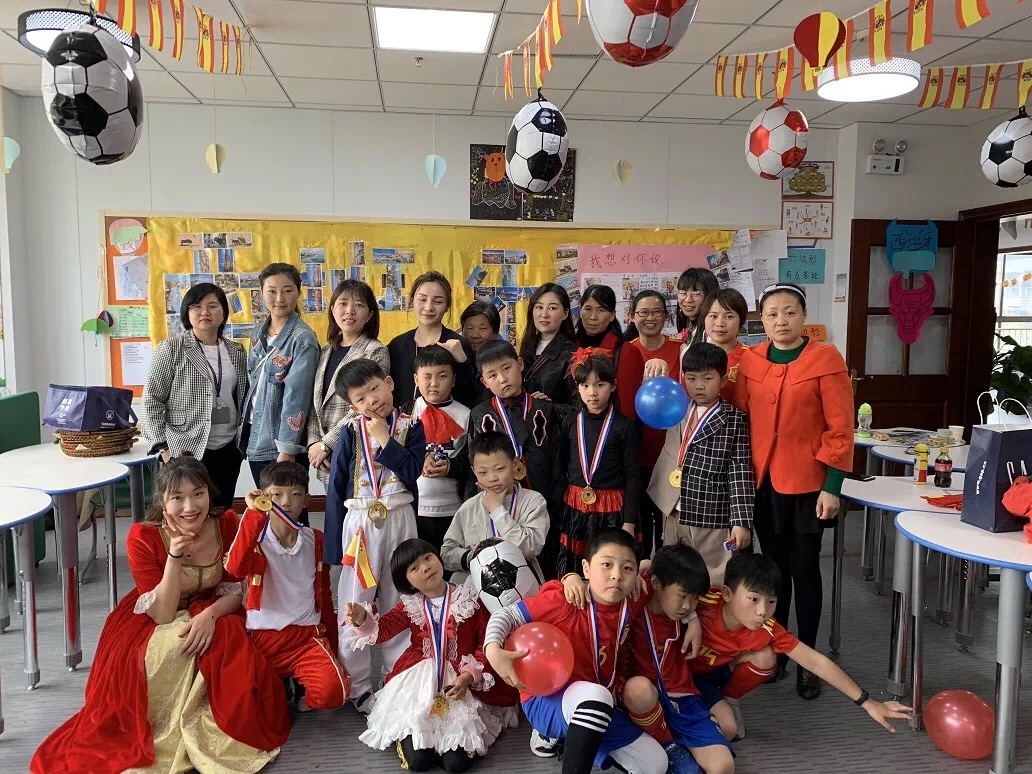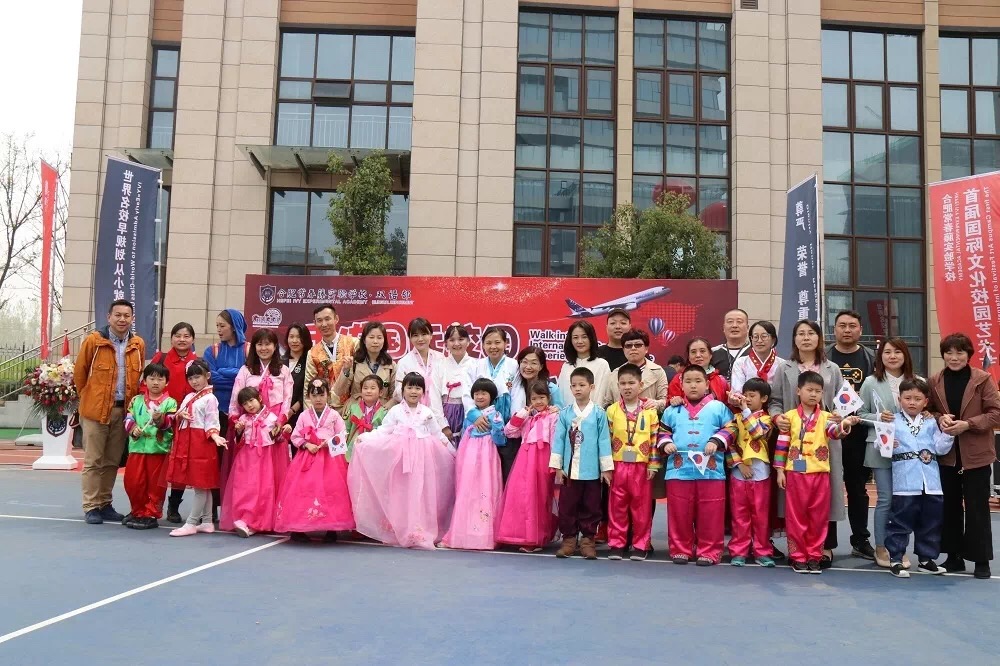 ---